Yvonne Rainer Essay Scholarships
Yvonne Rainer's innovative choreography challenges both audiences and performers. Dancer Pat Catterson—who performs new work by Rainer at the Getty on October 3 and 4—reveals what it's like to bring alive her "unadorned, direct performance of movement"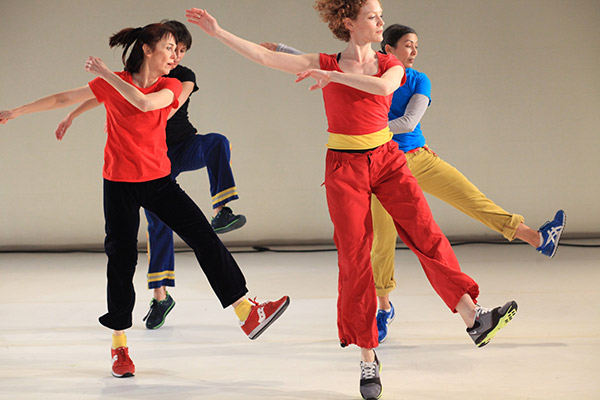 Performance of Yvonne Rainer's Assisted Living: Good Sports 2 at DIA Beacon in 2011. Pat Catterson (far left) and Emily Coates in front; Patricia Hoffbauer (left) and Manou Phuon (right) in back. Photo © Paula Court
I first saw Yvonne Rainer's work, including her Trio A and The Mind is a Muscle,in New York City, and first met and performed with her at the American Dance Festival at Connecticut College, all in 1969. In the next two years, I performed in her WAR and Grand Union Dreams and saw many performances by the Grand Union, the improvisational troupe she founded. I even participated in a few.
In a particularly memorable performance, I danced Trio A retrograde, and in the nude—save for an American flag tied around my neck. Yvonne made this version to protest the Vietnam War and the arrest of an artist and gallery owner who had dared to display an artwork incorporating the American flag, thereby "desecrating" it. In 1970 I also presented my own first full evening of choreography at Judson Memorial Church, then the epicenter of experimental dance in New York.
Yvonne stopped choreographing in the 1970s to focus on filmmaking, and did not resume until 2000. Other than performing a segment of Trio A—this time clothed—in a 1975 work of mine called Serial II, I didn't perform Yvonne's work again until October 4, 1999. In that evening at Judson Church, I, along with Yvonne, Steve Paxton, and Douglas Dunn, performed various versions of Trio A under the title Trio A Pressured.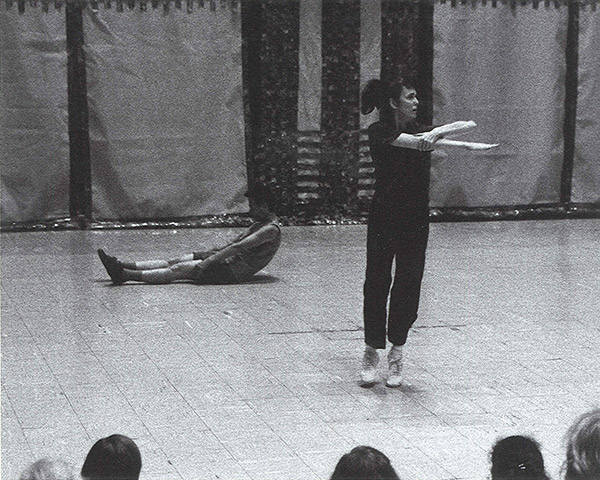 Pat Catterson (foreground) performing Yvonne Rainer's Trio A at Judson Church in 1999. Photo: Christian Uhl
Shortly after that momentous occasion, Yvonne was commissioned by Mikhail Baryshnikov to create a new work for his company, the White Oak Project, and she asked me to assist her. That work, After Many a Summer Dies the Swan, began not only a return to dance-making for Yvonne, but also a new working relationship for me with her that continues to this day.
Since returning to choreographing, Yvonne has created six new works with us, the Raindears, the nickname we dancers have given ourselves: AG Indexical with a little help from H.M., RoS Indexical, Spiraling Down, Assisted Living: Good Sports 2, Assisted Living: Do You Have Any Money, and this past summer, The Concept of Dust, or How do you look when there's nothing left to move. The current Raindears are Emily Coates, Patricia Hoffbauer, Emmanuele Phuon, Keith Sabado, and myself. (Choreographer Sally Silvers was an original member of the group but left in 2009 to focus on her own career.) Including Yvonne, each of us is in a different decade of life, from the thirties to the seventies. At 68, I am the oldest of the Raindears.
The Raindears perform Yvonne Rainer's Agon Indexical with a little help from H.M. in Helsinki, circa 2008. Left to right: Pat Catterson, Patricia Hoffbauer, Emily Coates, Sally Silvers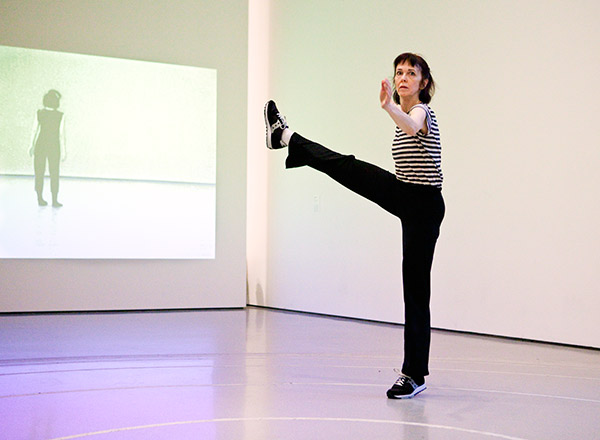 Pat Catterson performing Yvonne Rainer's Trio A at the Museum of Modern Art in 2009. Photo: Yi-Chun Wu
Yvonne's choreographic strategy for all of these pieces has been similar, and similar to what I recall of the dances from the seventies in which I participated. She callsher mode of assembling "radical juxtaposition," always with an eye to making sure there is "a fly in the ointment," for she never wants the viewer to get too comfortable. The resulting clear but challenging forms allow meaning to poetically emerge from this conjoining, the dance's significance left open to the viewer's imagination and historical perspective.
To begin her collage-like process, Yvonne arrives at rehearsal armed with various materials: segments of new set movement to teach us, movement quotes from her earlier work, images from photographs, directives for structured improvisations, bits of text, often with political content or from her current readings, sometimes music, and—often now—videotapes of others' artwork. Recently, for example, she brought in the film routines of Stan Laurel and Oliver Hardy and the brilliant physical acting of Jacques Tati. This process for us, the dancers, often entails homework. For me, as her rehearsal assistant, it means learning movement from videotapes and then teaching this to the others, or studying music scores for structural landmarks or counts.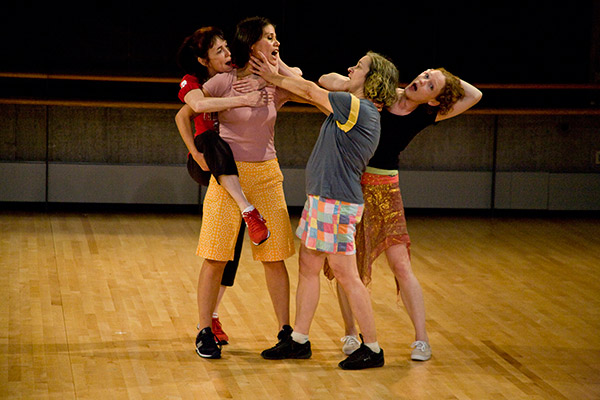 The Raindears perform Yvonne Rainer's Spiralling Down at Baryshnikov Art Center in 2011. From left: Pat Catterson, Patricia Hoffbauer, Sally Silvers, and Emily Coates. Photo: Andrea Geyer
Yvonne's work, because of its pastiche nature, and its sometimes more mental than organic arrangement, requires the dancer to switch energies on a dime. It can also be hard to remember. One needs as much mental as physical alertness and absorption, and the challenge is to not let the mental effort increase the body's tension.
There are stylistic elements and aesthetic preferences in Yvonne's work to attend to as well. As in her early work, characterized as epitomizing the notion of "the neutral doer," she prefers an unadorned, direct performance of movement, with a weighted ease more pedestrian- or athletic-looking than technical. Though sometimes requiring technique skills, we are to perform without stylistic furbelows or stance or personal expression—that is, unless she specifically requests we do otherwise, perhaps as a kind of quote or framing of a clichéd style or genre of expression.
Within this, we dance as our individual selves, not as generically molded dancers or as particular characters. As with any choreographer's work, one has to find one's own way within this so as to be able to perform it, rather than fake its engagement or merely deliver it as a list of disconnected orders. This is not about finding a personal emotional expression, necessarily, though this can happen, but more about finding some kind of a through line that allows one to find, at least, a physical logic.
Performing Yvonne's work is an enrapturing engagement of mind and body, one both similar and different from what my own work brings me. I am grateful for its challenges and to Yvonne for continuing to ask me to perform, even in my seventh decade.
_______
This piece is adapted and updated from the essay "Dancing Yvonne," published in 2007 in Attitude Magazine.
See Pat Catterson perform two works by Yvonne Rainer, co-commissioned by the Getty and Performa in conjunction with the current Getty Research Institute exhibition Yvonne Rainer: Dances and Films,at the Getty Center on October 3 and 4.
Gavin Jantjes, "Untitled", Acrylic on canvas, 1989. Image (detail) courtesy of the National Museum of African Art Smithsonian collection
Carrie Mae Weems, The Considered, See Bergman, from "Essay on Equivalents," 2011. Courtesy of the artist and Jack Shainman Gallery.
"Thank You and Good-Bye" with Julieta Aranda, Carlos Motta, Defne Ayas, Adam Kleinman, and Naeem Mohaiemen/Visible Collective on the occasion of "Broken English" publication
Performa Institute for Performa 11
Writing about New Media and Performance with Cay Sophie Rabinowitz, Margo Jefferson, John Rockwell, Bennett Simpson, and Linda Yablonsky at New York University
Massimiliano Gioni: On Biennials, as part of the Performa Intensive graduate program the NYU Steinhardt School's Department of Art and Art Professions
Taisha Paggett, Andre LePecki, Xavier Le Roy, Kelly Nipper, and RoseLee Goldberg at Not For Sale - Dance and Conceptual Art in the Visual Arts, 2007. Photo by J. Dewait.
PERFORMA INSTITUTE
Performa Institute is a year-round think tank that includes public programs, an annual conference, online and print publications, international curatorial network program, and a repository of performance scholarship and documentation. Performa Institute initiatives provide important contributions to the field of contemporary art through the development of scholarship about performance and the role of this work in shaping the history of 20th and 21st-century art.
Through the Performa Institute, we foster learning, critical discourse, and deeper engagement in performance. The Performa Institute presents a range of in-depth programs for the presentation and exploration of ideas and the exchange of research and knowledge, with a focus on the study of history and on forging a new intellectual culture surrounding contemporary art. The Performa Institute asks artists, curators, and writers to function as educators across disciplines. While we have presented public programs since our inception, the Performa Institute was launched during Performa 11, which formalized and coalesced under one banner our program offerings that complement and inform the Performa biennial. New York University's Steinhardt School of Culture, Education, and Human Development's Department of Art and Art Professions is our primary partner for the Performa Institute and hosts a majority of our public programs.
RECENT PROGRAM

ADAM PENDLETON
JUST BACK FROM LOS ANGELES: A PORTRAIT OF YVONNE RAINER
January 9, 2017 at Anthology Film Archives
Just back from Los Angeles: A Portrait of Yvonne Rainer is the third in a series of portraits by artist Adam Pendleton. The video poetically captures the choreographer, filmmaker, and writer Yvonne Rainer in conversation with Pendleton at a diner in New York City's Chelsea neighborhood. Rainer and Pendleton, through a scripted and unscripted exchange, reflect on life and work, politics and art, and the relationship between memory and movement. Pendleton's video portrait of Rainer is the latest in a series of evocative personal accounts that have thus far included Lorraine O'Grady: A Portrait (2012) and My Education: A Portrait of David Hilliard (2011-2014). Originally inspired by Gertrude Stein's text-based portraits, the videos capture beautiful, intimate, and profoundly self-reflexive encounters between the artist and his subjects. Pendleton's choice of interlocutors gives meaningful illumination to the ideas informing his Black Dada project and its aim of constituting new genealogies in aesthetics.

Begun in 2008, Black Dada is a conceptual paradigm for a body of work, which includes ideas, paintings, sculptures, wall works, videos, a manifesto, and a reader. Black Dada references social and historical conditions through the formal methods of conceptualism, producing a point of convergence—the artwork, which sieves and questions matters pertaining to the freedom of abstraction in language and visual art, the animating force of blackness, and the strategies of experimental avant-gardes. Black Dada instigates and relies upon the possibilities realized through the melding of contradictions and aligning of seemingly incommensurable parts, references, and forms.

Just back from Los Angeles: A Portrait of Yvonne Rainer is commissioned on the occasion of 100 Degrees Above Dada, the Performa 17 biennial's history anchor, and presented as part of the Performa Institute. As with previous biennials in which we explored Futurism (2009), Russian Constructivism (2011), Surrealism (2013), and the Renaissance (2015), we approach Dada's (1916-1925) art historical relevance and influence on artists through unexpected and unusual perspectives and juxtapositions in intermedia art.

Pendleton and Rainer are paired by Performa Curator Adrienne Edwards as counterpoints to or varying entrees into the history, legacy, and influence of Dada in an effort to complicate and reimagine what we think we know about this art movement. Both artists share an interest in language and poetry, particularly when illogical and experimental, often incorporating them in their works. For instance, both wrote manifestoes that illumine the stakes of their art: Rainer penned the "No Manifesto" (1965) and Pendleton crafted the "Black Dada" manifesto (2008). Aesthetically Rainer and Pendleton demonstrate a proclivity for deconstructed and fragmented forms, which mine everyday dimensions of life for artistic material, frequently deployed with a sense of irony, and a preference for minimalist expression. They are both invested in art's revolutionary possibilities for social change as evinced in Rainer's anti-war protest dances in the 1970s and the feminist dimensions of her radical choreographic style and films, as well as in Pendleton's Black Lives Matter flag for the Belgian Pavilion in the 2015 Venice Biennial and his latest series of paintings entitled Untitled (A Victim of American Democracy), which debuted this past summer as part of Edwards' Blackness in Abstraction exhibition at Pace Gallery and are now on display in Pendleton's first show with Galerie Eva Presenhuber, Zurich named Midnight in America.
ADAM PENDLETON
Adam Pendleton (American, b. 1984) is a conceptual artist known for his multidisciplinary practice, which includes painting, publishing, collage, video, and performance. He often engages with language, both figuratively and literally, and addresses the re-contextualization of history. Through his work, the artist seeks to establish "a future dynamic where new historical narratives and meanings can exist." Pendleton is widely collected by esteemed institutions around the world including Solomon R. Guggenheim Museum, New York, Museum of Contemporary Art, Chicago, The Museum of Modern Art, New York, Studio Museum in Harlem, New York, and Tate, London. Pendleton's work is exhibited widely nationally and internationally. Recent projects include participation in the 11th Gwangju Bienniale (2016) and a traveling solo exhibition entitled Adam Pendleton: Becoming Imperceptible presented at the Contemporary Art Center New Orleans and Museum of Contemporary Art Denver (2016), as well as Museum of Contemporary Art Cleveland (2017).

YVONNE RAINER
Yvonne Rainer is one of the founders of the Judson Dance Theater (1962), made a transition to filmmaking following a fifteen-year career as a choreographer/dancer (1960-1975). After making seven experimental feature-length films — Lives of Performers, Privilege, and MURDER and murder, among others — she returned to dance in 2000 via a commission from the Baryshnikov Dance Foundation (After Many a Summer Dies the Swan). Since then she has made six dances, including AG Indexical, with a little help from H.M., Assisted Living: Do you have any money? and The Concept of Dust, or How do you look when there's nothing left to move? which was co-commissioned by Performa and the Getty Center. Her dances have been seen throughout the U.S. and elsewhere, including the Whitney Museum, the Museum of Modern Art, Performa, Dia Beacon, Getty Research Institute, the Louvre, Documenta 12, and Sao Paulo. Museum retrospectives of her work have been presented at Kunsthaus Bregenz and Museum Ludwig; the Getty Research Institute; Jeu de Paume, École des Beaux Arts, La Ferme du Buisson, Paris, and Raven Row, London. A memoir, Feelings Are Facts: a Life, was published by MIT Press in 2006; a selection of her poetry was published in 2011 by Paul Chan's Badlands Unlimited. Other writings have been collected in Work: 1961-73, The Films of Y.R., and A Woman Who…: Essays, Interviews, Scripts.
Both artists received Performa Commissions in 2007.
Curated by Adrienne Edwards.
----------------------------------------------
PAST PROGRAMS
April 19, 2004

NOT FOR SALE: Curating, Conserving, and Collecting Ephemeral Art with Joan Jonas, Robert Storr, Chrissie Iles, and Hans Ulrich Obrist at New York University
November 18, 2004

NOT FOR SALE: Artists' View with Marina Abramovic, Rirkrit Tiravanija, Klaus Ottmann, and Debra Singer at New York University
April 21, 2005

NOT FOR SALE: New Media and Sound with Christian Marclay, Christoph Cox, Ron Kuivila, and Elizabeth LeCompte at New York University
November 12, 2005

Writing about New Media and Performance with Catherine Wood, Katy Siegel, Anthony Huberman, Cay Sophie Rabinowitz, Margo Jefferson, John Rockwell, Bennett Simpson, and Linda Yablonsky at New York University
April 28, 2006

NOT FOR SALE: We Are Still Appalled with C. Carr, Lia Gangitano, Laura Hoptman, and Adrian Heathfield at New York University
March 24, 2010

NOT FOR SALE: Its History Now: Performance and the Museum with panelists Alexander Alberro, Chrissie Iles, Martha Rosler, and Glenn Wharton; respondents Eungie Joo and Adam Pendleton; and introduced and moderated by Performa Founding Director and Curator RoseLee Goldberg at New York University.
May 26, 2010

NOT FOR SALE: Have You Kicked a Building Lately? with panelists Vito Acconci, Elizabeth Berger, Beatriz Colomina, and Teddy Cruz; respondents Glenn Weiss, Alexander Pincus, and Peter Zuspan; and introduced and moderated by Founding Director and Curator RoseLee Goldberg at the Cooper Union
October 4, 2010

NOT FOR SALE: Diamonds on the Soles of Her Shoes: A Conversation About Contemporary Performance in Three African Cities with Okwui Enwezor and Deborah Willis; respondent Clifford Owens; and introduced and moderated by Founding Director and Curator RoseLee Goldberg at New York University
March 28, 2011

NOT FOR SALE: Staging Language with Adam Pendleton, Frances Stark, and Tom McCarthy; introduced and moderated by Performa Curator Mark Beasley at the Cooper Union
October 3, 2011
Massimiliano Gioni: On Biennials, as part of the Performa Intensive graduate program the NYU Steinhardt School's Department of Art and Art Professions
October 27, 2011

Jens Hoffman: Biennials and Curatorial Ambivalence, as part of the Performa Intensive graduate program the NYU Steinhardt School's Department of Art and Art Professions
November 1-21, 2011
Performa Institute, a platform of 30 biennial artist-led classes with Elmgreen & Dragset, Ragnar Kjartansson, Guy Maddin, Antonio Manuel, Mai-Thu Perret, Michael Portnoy, Serkan Ozkaya, Anton Vidokle Liam Gillick, Mika Rottenberg and Jon Kessler, Julieta Aranda, Carlos Motta and Raphael Zarka, among others, with Performa curators Defne Ayas and Dougal Phillips
April 12, 2012

Portrait of the Artist with Lorraine O'Grady and Kellie Jones at New York University
September 17, 2012

Why Dance in the Art World? with Jennifer Homans, Ralph Lemon, Jenny Schlenzka, and David Velasco at the Judson Memorial Church.
February 8–9, 2013

Get Ready for the Marvelous: Black Surrealism in 
Dakar, Fort-de-France, Havana, Johannesburg, 
New York City, Paris, Port-au-Prince 1932–2013 with Awam Amkpa, Barbara Browning, Robin D. G. Kelley, Simone Leigh, Paul D. Miller, Wangechi Mutu, Gabi Ngcobo, Tavia Nyong'O, Adam Pendleton, Lowery Stokes Sims, Greg Tate, Melvin Van Peebles, and Performa Associate Curator, Performa Institute Adrienne Edwards at New York University
May 17, 2013
Loudspeaker: A Concert Symposium for Extra-Normal Vocals with Joan La Barbara, Jace Clayton, Florian Hecker, Alex Waterman, Gelsey Bell, and Performa Curator Mark Beasley at the Cooper Union
April 24, 2014
Who Can Write About Performance Art? Featuring: Claire Bishop, RoseLee Goldberg, Adrian Heathfield, John Rockwell, Hrag Vartanian, at Judson Church in partnership with NYU Steinhardt.
April 24-25, 2015
PARADISO: Performing the Renaissance with Pauline Curnier Jardin, David Hallberg, Zach Layton, Kate Lowe, Alexander Nagel, Shahzia Sikander, Pamela Smith, Claire Tancons, Rebecca Zorach, and Our Literal Speed at New York University
October 2, 2015
Portrait of the Artist with Carrie Mae Weems at NYU Steinhardt School of Culture, Education, and Human Development

September 15, 2016
Freedom As Form: Gavin Jantjes and Nandipha Mntambo in Conversation. Co-presented by the Institute of Fine Arts, NYU and Performa Institute


Performa
100 West 23rd St., Fl. 5
New York, NY 10011
T: 212.366.5700
F: 646.607.0811
Shop